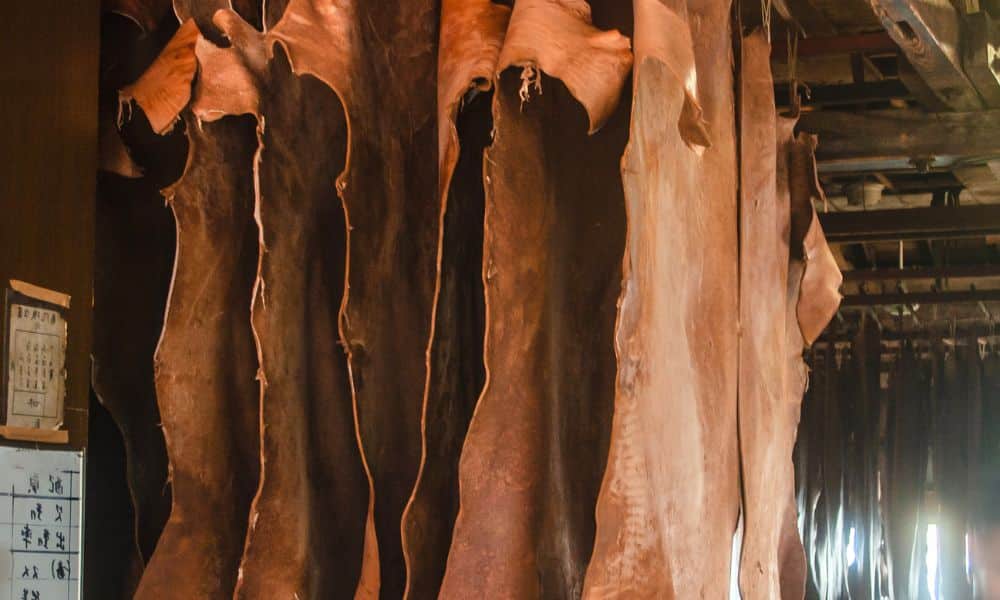 There are many aspects of leatherwork that you'll need to know to be a professional, including how to authenticate the material. When you buy buffalo leather, determining if it's real is a valuable skill that will help you spend your money wisely and prevent you from mislabeling your finished products. Use this guide to learn how to make sure your buffalo leather is real and ways to avoid buying fake leather.
Traits of Buffalo Leather
Buffalo hide makes a fine leather that is distinguishable from the other leathers worldwide. Understanding the traits that make buffalo leather unique is important in understanding the difference between a real and a fake piece of leather.
The prominent features of buffalo leather are the grain, texture, thickness, and durability. Fake leather may try to emulate these traits, but it falls short of creating a replica of the material. Learn about these features of buffalo leather to gain an easier method of identifying authentic materials.
Grain
The grain is a defining trait of any piece of leather. The leather grain is a unique trait because it differs between animal hides, given their varying skin structures. The grain of buffalo leather has a distinct appearance with larger pores that make the grain look more defined.
The thicker leather fibers create a unique appearance in the grain, making it appear deeper with a special pattern you won't find in other hides. Many people enjoy the appearance of buffalo leather and its grain and wish to maintain that appearance on their leather items. Full-grain leather keeps this eye-catching look thanks to the thick texture of the grain and contributes to a natural appearance.
Texture
Knowing the feeling of real leather is an important part of determining its authenticity. The texture of buffalo leather feels bumpy and coarse because of the thick pores. The thick hair fibers on the animal lead to thicker skin and larger follicles.
This defining feature makes it stand out from other leathers and helps you determine if your bison leather is real. It's difficult to replicate the uniquely coarse surface. Feel along the surface and memorize the texture to understand what real leather feels like for future purposes and ensure you have the right material for your projects.
Thickness
A leather's thickness is an important trait that makes it more useful in various applications. Thickness typically derives from the skin of the animal and the leather-making process. Certain types of animal skin feature particular qualities that give them a better chance of creating thicker leather.
The buffalo has an epidermal layer three times thicker than a cow's hide, and when combined with the larger pores and deep grain, the leather feels noticeably thick. Bags and boots made of buffalo leather feel and look thicker, creating an illusion that they are larger than they are. Buffalo leather's thickness is a defining trait that makes it easy to identify. Notice the thickness of the leather to ensure the buffalo leather is real upon receiving it.
Durability
Along with the thickness of the buffalo leather, durability is an essential trait to look out for. Leather is a popular material for crafting items because of its longevity and durability against elements such as water and heat. Real buffalo leather has some of the best durability, which helps it withstand numerous types of damage.
Its water resistance comes from the high amounts of oil in the buffalo's skin, which prevents moisture from entering the material and ensures a long-lasting leather item. The thickness of buffalo leather protects the material from blunt force and wear, helping the item last for years. Clothing and gear that use buffalo leather will last long because of the material's durability, even after frequent use.
Ways To Spot Fake Buffalo Leather
Although knowing the defining traits of real buffalo leather makes it easy to authenticate it, it's essential to know what fake leather feels like. The fake leather has some traits that immediately reveal its inauthenticity, while other indicators may take extra effort to notice.
Performing these "tests" helps you learn how to spot fake leather and prevent yourself from buying improper materials for your leatherwork. Look for these signs of a fake whenever you shop for tanned buffalo leather for sale.
Smell
The scent of leather is a giveaway of its quality. Real leather typically smells of animal skin that is hard to replicate, and the addition of oils and chemicals from leather-making combine to create a more unique scent. Even after years of use, this smell remains and helps a person identify the material.
However, fake leather smells carry the smell of plastic because that's the material used to construct it. Some fake leather may also remain odorless, and that lack of smell can also indicate that it's not real. Take a big whiff of the buffalo leather to verify its authenticity. If it smells like plastic or lacks any smell, you may want to further investigate the material's nature.
Peeling or Cracking
Leather may have imperfections over time since it's an organic material. Balling up a leather jacket creates wrinkles, and it's possible to scratch the surface with a sharp object and leave an impression. These are signs that the leather is real and behaves the way that skin should.
That said, if you notice that the leather peels or cracks in certain places, take this as a clear sign that the leather is fake. Even after tanning, leather maintains skin qualities, such as creasing. Animal skin does not peel or crack under most circumstances, especially after turning into leather. If you notice a crack or the surface of your leather peeling, you likely aren't handling genuine leather.
Focus on the Pores
The pores of buffalo leather are large and uneven, creating a coarse appearance. These bumps on the surface create variety amongst different pieces of buffalo leather, and it is easy to distinguish.
Fake leather typically makes the pores uniform across the surface, revealing that it didn't originate from a natural source. Look at the pores of the leather to perform a quick authentication check. If the pores are uneven and inconsistent, you have real leather; if things seem too perfect, it may be fake.
Feel Along the Surface
As previously mentioned, the pores of buffalo leather are larger and create a bumpy, coarse feeling. The unique feeling of the surface defines the leather as real.
Meanwhile, fake buffalo leather has an even feeling across the material because of its manufacturing. Feel along the surface for imperfections that quickly stand out. An overly smooth surface shows that the pores and grain aren't natural.
Real leather is valuable, so it's important to ensure receive the genuine product. Use this guide to identify real buffalo leather and ensure your leatherwork looks and feels authentic with great materials.